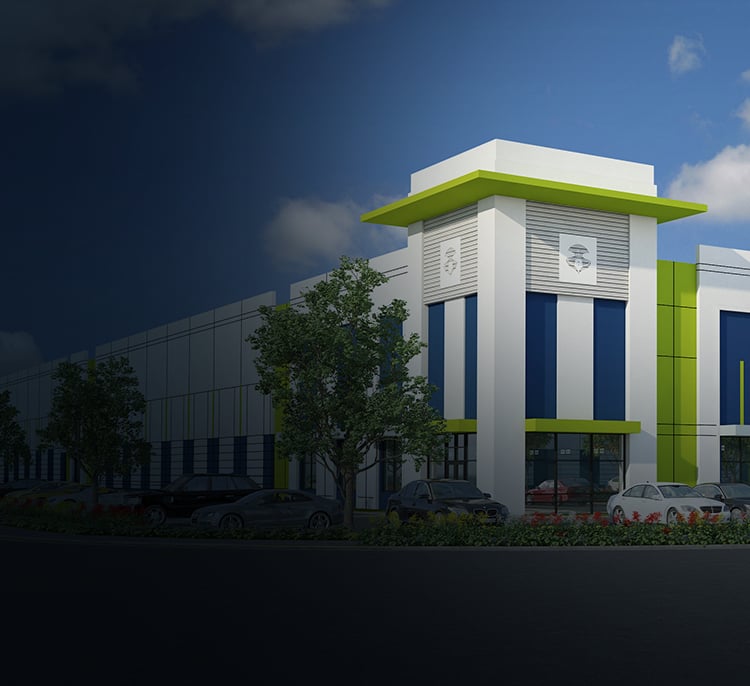 The legacy expands to North Miami-Dade
Beacon Logistics Park is a high-tech, Class-A business environment ideal for manufacturers, import/export, logistic solutions, and shipping companies that need quick and convenient access to Miami International Airport, Port Miami, and Port Everglades. The master-planned industrial development is located in proximity to the Florida Turnpike, the Palmetto Expressway and I-75 providing easy access to all of Miami-Dade County and Broward County. Additionally, the area boasts a fast-growing population with immediate access to a large, skilled labor pool. Beacon Logistics Park is at the frontier of where business thrives.
The new industrial park spans more than 1.3 million square feet of space giving tenants the flexibility to expand, complete with foreign trade zone compliance capability for reduced customs duties. Beacon Logistics Park offers tenants the ability to maximize their operations while optimizing cost-efficiency. The property features more cubic storage space, efficient building systems, expanded truck courts, 60′ speed bays, 54' wide column spacing, and more. From the office, to the showroom, to the warehouse, all of the components of a company can reside in one place at Beacon Logistics Park.
Most importantly, Beacon Logistics Park is the newest logistics and distribution built-to-suit park in South Florida with the Beacon brand behind it—the gold standard in industrial development.
A STRATEGIC Location
1 mi. Fl. Turnpike
2 mi. I-75
2 mi. US-27
3 mi. 826 Expressway
10 mi. Miami Intl. Airport
11 mi. I-95
19 mi. Port Miami
29 mi. Port Everglades
The Beacon Legacy grows.
Unprecedented Opportunities.
A World-Class Industrial Development.
About Codina partners
Codina Partners is a real estate investment and development firm driving the successful transformation of South Florida's communities into more vital, prosperous centers for living, working, culture and commerce. Led by visionary developers Armando Codina and daughter Ana-Marie Codina Barlick, the firm combines decades of local experience with a fresh, entrepreneurial approach. With wide-ranging and deep expertise, Codina offers a unique ability to bring to life highly complex deals that anticipate where the market is headed in one of the nation's most dynamic environments. From multi-family to office to industrial to mixed-use, Codina Partners develops transformational real estate, like Beacon Logistics Park, that delivers long-term value to all.
For more information, please click here.
About Affinius Capital
USAA Real Estate, having acquired the balance of Square Mile Capital in 2021, has fully integrated the two entities under a new corporate brand name, Affinius Capital®. Under the Affinius banner, the company will continue to provide strategic equity and debt capital, leveraging the accelerating demand for technology-driven real estate assets, structured credit, and flexible deal structures, while meeting the critical need for rental housing solutions. Along with its affiliate companies, Affinius Capital continues to invest across the risk spectrum for a global client base, managing over $35 billion in net assets under management within a diversified portfolio across North America and Europe. For more information, visit www.affiniuscapital.com.